A way overdue gallery post, as I have finally managed to sort and post my images of the September 2015 Total Lunar Eclipse. The weather was excellent in Oxfordshire for this event which started at 01:11UT and finished at 06:22UT.
This eclipse occurred with the moon close to perigee, and appeared very dark to the naked eye. Our daughter (aged 5) even got up in the middle of the night to have a look through Daddy's telescope at the moon and did this amazing drawing the next morning all by herself!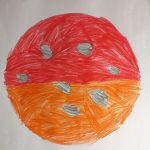 My image around maximum eclipse was used on the Oxford Mail website as the header image for the article on the event. The gallery below is a selection of images from all the ones I took – these were all taken using a Nikon D70s through a William Optics 110FLT. Exposures range from fractions of seconds for the partial phases, right up to 10 seconds for the images at maximum, which shows the range of brightness across the whole eclipse. My imaging finished at about 6am when the moon was occulted by the garden fence so I didn't quite get the last stages of the eclipse (though I got an hour or so back in bed before work)!