On 9th May 2016, Mercury transited the sun as viewed from Earth for the first time since November 2006. The transit was well timed for observation from The UK and Europe, starting at 11:12UT and ending at 18:42UT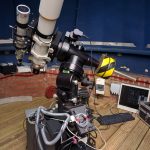 . I attempted to view and to photograph the transit using both my WO FLT110 with a Herschel Wedge from Lacerta, as well as visual work through the Takahashi FC60.
To image the eclipse, I used a combination of the WO FLT110 working at native f7 using the Herschel Wedge, with ND3.0, IR/UV blocking and Wratten #57 filters. Situated behind this combination was the ASI120MM camera – the plan being to take video captures of the event, processing into images later with Auostakkert/Registax.
However, British weather being itself, I only had a very short window of clear sky at the beginning of the transit during which I could grab one decent shot showing Mercury (bottom left), AR12542 (top) and AR12543 (lower), and with AR12544 developing at the top left. This image made it onto the Meridian (West) news at 6pm that evening, and is on Simon Parkin's Mercury Transit blog post as well.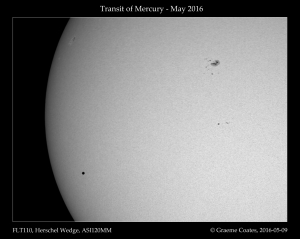 After this 10 minute spell of clear(ish) sky, I had very little opportunity to see the transit again – there was a short period here and there where I was able to visually observe Mercury and the sunspots on the disc, but by 3pm I was completely clouded out, with rain following later in the evening….