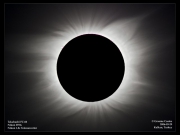 In late March, 2006 I travelled to Turkey to watch the total solar eclipse. After flying to Antalya, we drove to Kalkan (220 km west) where we stayed for a week around the eclipse. We observed 1m57s of totality from the villa in excellent conditions.
I used a Takahashi FC-60 and a Nikon D70S with 1.8x teleconverter (thanks Bob!) to take the images, with processing in Photoshop. The high contrast shot appeared in the first page of the gallery on Spaceweather on the day of the eclipse, and was used on the front cover of the April Newsletter of the Astronomical Association of Queensland!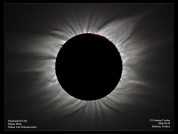 Here are some of the best images from the eclipse (if you view the gallery, make sure the post has the full width of the page to see it all – clicking the expand button or viewing the individual post):

Total Eclipse of March 29, 2006 by Graeme Coates is licensed under a Creative Commons Attribution-NonCommercial-ShareAlike 4.0 International License.