I am able to offer upgraded firmware to users of the Gemini Astronomical Positioning System as found on Losmandy and MI-250 mounts. This will update the firmware to Gemini Level 4 – a list of new features in Level 4 can be found on the Gemini site.
The firmware for these mounts is stored on a EPROM chip which is located inside the Gemini box – the chip is fully reusable and can be reprogrammed as required (I can reprogram to the latest Level 3 or Level 4 software). I will also test any EPROMs I burn by putting them into my own Losmandy Titan to test them out.
New version L4 v1.05 released as of 10th April 2007. I will provide v1.05 unless otherwise requested. Importantly, this includes the fix for the non-retention of PEC Index across warm restart, and is likely to be a major improvement for imagers.
The following options are available (please choose the correct destination – registered postage to Europe is slightly more expensive than to mainland UK):
Please let me know when ordering (or use the optional information at checkout) if you require a Level 3 upgrade rather than Level 4, or want a specific version rather than the latest available (currently – L4 v1.05). Payment by cheque is also fine – just email me for information.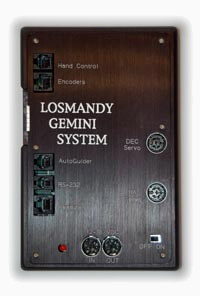 The prices include Royal Mail 1st class recorded delivery to the UK (Europe prices include additional postage costs (£3) for "International Signed For" airmail delivery – please contact me for other destinations. Also you pay postage only once on multiple chips and please contact me for price confirmations for multiple chip purchase/programming – I will discount the cost in this case.
Further updates to the firmware at the same level (i.e. L4 v1.xx) can be obtained for just the cost of return postage (so bugfixes will only cost postage if required). The turnround time for a re-program is reasonably quick so there will be minimal downtime (I'd hope to post it back the day after it arrives where possible). Please contact me for further information.
There is an excellent page on René Görlich's site here explaining how to remove and replace the EPROM. In fact, here is a good place to say thanks to René and numerous others who have made the ongoing development of the Gemini system possible! The new L4 manual (.pdf) can also be found on René's site – it explains the new features in detail (notably a rewritten PEC function).
NB: When upgrading the EPROM to Level 4 from a previous level, the CMOS memory inside the Gemini *must* be cleared properly, or odd things may happen! This is acheived by removing the internal battery (or sliding paper between the contacts) for 10 to 15 minutes. Also, if you own an MI-250, GM-8, G-11 or Titan-50 mount, you need to set the mount type on first boot – the default is now "Titan". This is a one-time job – it will be stored in the CMOS memory until the battery runs out or is next removed.