I previously offered upgraded firmware to users of the Gemini Astronomical Positioning System as found on Losmandy and MI-250 mounts.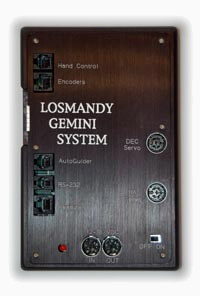 As of 6th April 2017, I'm afraid that I can no longer offer this service – the hardware I used to programme the EPROM chips doesn't work on my new computer with the original PC having (finally!) died.
Thank you to all Gemini users in the UK and Europe who have bought chips from me in the past – if you are looking for assistance with reprogramming EPROM chips, I'd recommend looking at other suppliers via the EPROM page on the Gemini site (run by Thomas Hilton).
For support for the Gemini 1 system, I can't recommend enough the knowledgable users on the Gemini User Group – there is a wealth of knowledge on there and can often assist without the need to go back to Losmandy for their technical support.

Gemini EPROM Updates by Graeme Coates is licensed under a Creative Commons Attribution-NonCommercial-ShareAlike 4.0 International License.