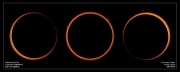 In 2005, we travelled to Dénia in Spain to watch the annular eclipse that took place on the 3rd Oct. After flying to Alicante, we drove to Dénia to our villa which was located in the line of annularity.
Using a Takahashi FC-60, a Coronado SolarMax 60 and BF15 and an SBIG ST-2000XM, I imaged the solar eclipse from the balcony on the villa.

Luckily, the cloud which had been around all morning cleared just in time to view 2nd contact and annularity, even though we were a few miles away at the time as we had travelled to try and find clear skies. We saw the eclipse from halfway up the "Elephant" (El Montgó – the mountain above Dénia) whilst the ccd camera and mount did their work taking images automatically.
Here's a gallery of the best images from the eclipse:

Annular Eclipse of Oct 3rd, 2005 by Graeme Coates is licensed under a Creative Commons Attribution-NonCommercial-ShareAlike 4.0 International License.