Field centred at: RA: 6h 08m 25.2s, Dec: +24° 15′ 06.2″
(plate solve from astrometry.net)
M35 and NGC2158 are a pair of open clusters which, similarly to the more famous h and X Persei, are viewed nearly on the same line of sight from Earth. M35 is somewhat younger (as evidenced by the predominantly blue stars as compared to the older yellow stars in NGC2158), and a lot closer to us – while NGC2158 is more compact with more stars in the same volume.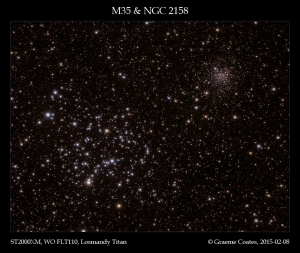 This exposure was taken on the 8th February 2015 but was somewhat shortened by fog rapidly rolling in, and hence the rather short total exposure:
ST2000XM, FLT110, Losmandy Titan
LRGB: 20:9:9:9 each in 1min subs.

M35 & NGC 2158 by Graeme Coates is licensed under a Creative Commons Attribution-NonCommercial-ShareAlike 4.0 International License.