RA: 11h 19m, Dec: 13°15′ (approx. centre)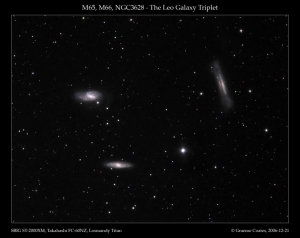 The famous Leo Triplet is a small group of three spiral galaxies (namely, M65 (NGC3623 – bottom-left), M66 (NGC3627 – top-left) and NGC3628 (right)) that is located about 35 million light years away between Theta and Iota Leonis. All three galaxies are readily visible in a small telescope, though NGC3628 tends to be the hardest of the three to spot. Additionally, the smaller galaxy NGC 3593 (not shown) may also be a member of this group.
This image was taken from the dark skies of Mid-Wales on December 21st, 2006 as a "quickie" before sunrise after a run on imaging the Cone Nebula (to follow in a later post) – it's only about an hour of total exposure. A much longer imaging run would allow the faint surrounds of M66 and the "tidal tail" of NGC3628 to be brought out, but unfortunately, as is so often the case with imaging in the UK, the clouds came in for the next 5 nights leaving the telescope ready to go, but unable to actually take an image…

M65, M66, NGC3628 – The Leo Triplet by Graeme Coates is licensed under a Creative Commons Attribution-NonCommercial-ShareAlike 4.0 International License.