Image centred at:
RA: 02h 44m 19s
Dec: +61° 17′ 24″
Field is 15°x10°.
(Plate-solve by nova.astrometry.net)
Taken on the night of the 25th November 2017 from West Oxfordshire, this image is a widefield rendition of the Heart and Soul Nebulae (IC1805/Sh2-190 and IC1848/Sh2-199), which includes the Double Cluster (NGC 869 and NGC 884) in Perseus.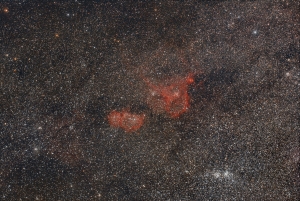 This was the first real test of a new widefield config that's now driven by a Raspberry Pi 3 running KStars and Ekos under Ubuntu Mate. The RPi3 controls the camera: a Baader filter modded Canon 350d (with shutter control via a serial release cable); a Moonlite compatible, Arduino based motor focuser (with stepper driven belt drive for the lens) ; and the Losmandy GM-8 mount it all sits upon. I can remote onto the RPi using VNC to control the session as it goes, and Ekos does everything including pointing and plate-solves, camera control and autofocusing. Everything is mounted on a somewhat Heath-Robinson arrangement on a standard Losmandy dovetail (lots of velcro pads!).
Within the camera is an IDAS P2 filter – this is a multi-bandpass, light pollution suppression filter that allows for an increase in contrast between deep sky objects and the background sky levels – it isn't a substitute for full narrowband filters, but it at least allows an improved colour rendition of the target. It's held in an MFA (mount filter adaptor) that screws into a small hole inside the camera body, holding the filter between the EF lens and the flip mirror.
Exposures here were 5 minutes long each at ISO400 f4.5, with 45 subframes in total – combined exposure is 3h45m. Reduction and processing took place in Pixinsight, with only a small bit of amp glow removal in Photoshop.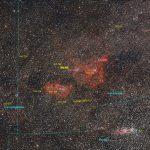 An annotated image showing the position of deep sky objects, coordinates and constellation figures/boundaries is also shown. There are, however, several objects that aren't included in the labelling here – the reflection nebula LBN 142.14+01.97 (LBN 682/Ced 14) in Camelopardalis is just visible to the left (east) of faint emission nebula Sh2-202. Open cluster Stock 2 is located (just) in Cassiopeia (to the right of the constellation label text!). And, though labelled up as SH2-191 and Sh2-197, the obscured local galaxies Maffei 1 and 2 are just visible as small, reddened smudges south of the Heart.

Widefield Heart, Soul & Double Cluster by Graeme Coates is licensed under a Creative Commons Attribution-NonCommercial-ShareAlike 4.0 International License.