Image centred at (nova.astrometry.net plate-solve):
RA: 21h 34m 17.296s
Dec: +57° 30′ 37.211″
Up is 2.19° E of N
IC1396 is a very large region of HII emission located in the Milky Way within Cepheus, which spans over 5 degrees of sky. Within IC1396, to the western side, is the Elephant's Trunk Nebula, known as IC1396A, and VdB 142, which is a reflection nebula at the end of the "trunk".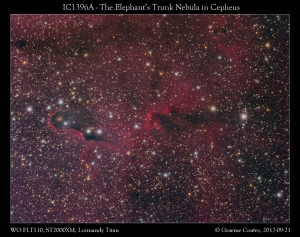 IC1396A itself is a dense globule of gas and dust that appears to be lined by bright pink emission from atomic hydrogen. This emission is due to excitation by the giant triple star system HD 206267 (off field to the left). The globule appears to be an area of star formation, and contains two young stars in the head of the globule that have created a cavity by the action of their own stellar winds.
These F-type stars provide the illumination for the rare yellow reflection nebula seen in the head of the globule, as well as the radiation causing the pink hydrogen emission within the cavity. The combined action of HD 206267 and the two young stars has resulted in areas of high compression in the nebula, triggering the formation of protostars.
Data was captured on the night of the 21st September 2017 from West Oxfordshire. Image details are as follows:
L:R:G:B = 130:45:35:35
(L:10m subs, RGB: 5m subs, 2x bin)
Taken using a WO FLT110 @ f5.6 with SBIG ST2000XM, on Losmandy Titan.
Processing was performed in Pixinsight – control over the star sizes is tricky here, and I may try and improve on this later. There's also a (relatively) small amount of data used here – this is certainly a subject that would benefit from adding more exposure (which may also help with star control), as well as H-Alpha data to increase signal and contrast in the emission nebula areas.

IC1396A – Elephant's Trunk Nebula by Graeme Coates is licensed under a Creative Commons Attribution-NonCommercial-ShareAlike 4.0 International License.